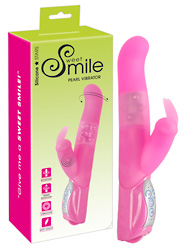 Pearl Bunny Pink Vibrato
Item No. 0 573094 0000
Pearl vibrator with silky soft touch. With left-/right-directed rotation and a bunny-shaped clit stimulator. 3-step rotation and 7-step vibration separately controllable on the push of a button. Length: ca. 26 cm. Ø ca. 3.2 cm.
Material: silicone. Colour: pink. Please order batteries separately: 3 x AA (0740667 0000).

I am a cute bunny
- and I cannot say I haven't got a clue! This bunny has very much to offer: Thanks to its silky soft touch-surface, the pink pearl vibrator finds its way to the centre of lust almost on its own ? where it vibrates and rotates with its massage balls and therefore provides highest pleasures inside her. For individual lust sensations, the 3-step rotation and the 7-step vibration are separately controllable on the push of a button. But the real icing on the cake is the clit stimulator with its cheeky bunny design, continuously nibbling on HER sensitive lust pearl. This bunny knows what women need!